The US has pledged that the implementation of US regulations will not hinder Vietnam's tra fish exports to the market, said Deputy Minister of Agriculture and Rural Development Vu Van Tam.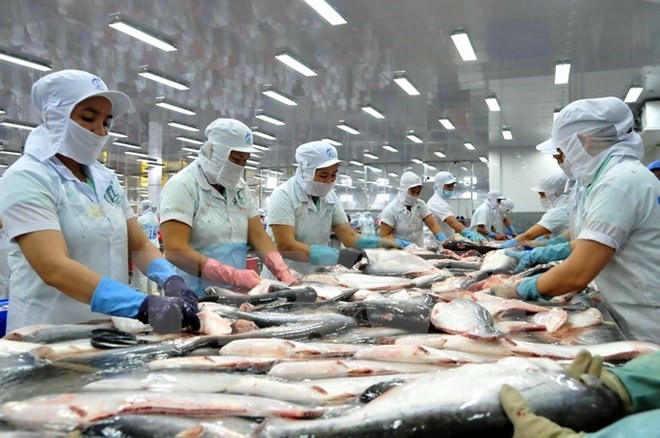 Processing tra fish for export (Photo: VNA)
According to the Deputy Minister, the US will send experts to Vietnam to help it follow the new regulations within 18 months.
He added the US side has agreed that it is not compulsory for Vietnam to satisfy all of the regulations during the period, explaining that Vietnam will have to meet the essential conditions and processes, and the US will consider extending the time to meet other regulations based on Vietnam's situation and level of development.
Before March 1, the National Agro-Forestry-Fisheries Quality Assurance Department sent legal documents on quality control of Vietnamese tra and basa fish, as well as a list of businesses that plan to continue shipping Siluriformes fish to the US market in the transitional period from March 1, 2016 to August 31, 2017.
The US has approved the list of 45 enterprises. Of these 23 have already been exporting to the US and 22 wished to sell there.
Tam said his ministry will review the management system to make it in line with that of the US and regard this as an opportunity for businesses to improve product quality.
According to the Deputy Minister, the export of tra fish to the US will not be affected in 2016. He said Vietnam will hold training courses for businesses on the new regulations of the US market, adding that businesses themselves should be aware about the tightening regulations set by the US and make necessary changes to their production process and quality inspection.
The US Food Safety and Inspection Service (FSIS) said it will examine Vietnamese tra and basa fish exported to the US as from April 15, 2016. Any fish found violating regulations on brand name, net weight or hygiene will not be allowed through.
The Vietnam Association of Seafood Exporters and Producers (VASEP) said the offering price for Vietnamese tra fish has increased by between US$0.10 and $0.15 per kilogramme in the US.
The FSIS on December 2, 2015 released a final rule establishing an inspection programme for Siluriformes fish, including Vietnam's tra and basa.
The programme started in the beginning of March. From now, Vietnam will have a transitional period of 18 months, during which the country has to prove that its management and production system is similar to that of the US.