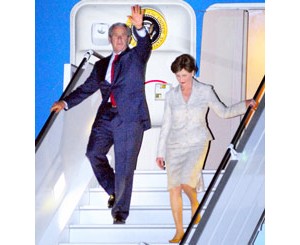 US President G.W.Bush and his wife Laura Bush arrive at Tan Son Nhat International Airport, Ho Chi Minh City, late Sunday, Nov. 19, 2006
US President George W. Bush regrets "that he can't be a tourist right now" in Viet Nam and hopes to return, perhaps after he leaves office in January 2009, his spokesman said Sunday.
Bush traveled to Ho Chi Minh city formerly known as Saigon on Sunday for the last leg of a visit to Viet Nam that began in Hanoi at a summit of Asia-Pacific leaders. He heads to Indonesia on Monday and then back to the United States.
"The president has expressed regret that he can't be a tourist right now, because he'd love to spend more time seeing it. It's a fascinating place," White House press secretary Tony Snow told reporters.
"It's not only growing very rapidly, but there's this sense of vitality," Snow told reporters aboard Bush's presidential Air Force One airplane.
Asked whether the US president would like to return to Viet Nam someday to take in the sights, Snow replied: "He'd like to."
"At this point, I'm not sure that the president is sitting around and telling what he'd like to do after he gets out of office. As you know, there's plenty to do in the next two years. But, look, he's fascinated by the place. This is a very interesting country," said Snow.