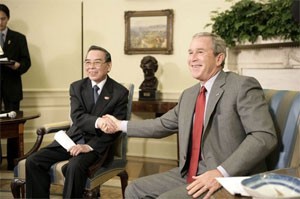 President George W. Bush shakes hand with Former Prime Minister Phan Van Khai of Vietnam in the Oval Office on June 21, 2005. (Photo: Whitehouse.gov)
Ms. Virginia Foote, chairman of US-Vietnam Trade Council, said yesterday that she believes the US Congress will adopt the Permanent Normal Trade Relations (PNTR) for Viet Nam at its November 13th to 19th sessions.
Meanwhile, US President George W. Bush will travel to Ha Noi for the 14th Asia-Pacific Economic Cooperation Leaders' Meeting on November 18th and 19th said a press briefing from the White House on Monday.
"The president expects a decision on PNTR for Viet Nam will be made before his visit to Viet Nam," said the chairman. "Thus, I believe that President Bush will come to Viet Nam along with the PNTR, or at least a decision on PNTR for Viet Nam will be made before his trip to Viet Nam."
At the APEC Summit 2006, President Bush looks forward to continuing his dialogue with APEC Leaders on ways to ensure the continued prosperity of the Asia-Pacific region.
The U.S. President will have meetings with President Nguyen Minh Triet and Prime Minister Nguyen Tan Dzung in Hanoi on November 17, and hold bilateral meetings with other leaders while at the APEC Conference.
Bush will visit Ho Chi Minh City while in Viet Nam and travel to Singapore and Indonesia during his trip.