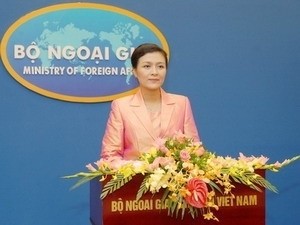 Vietnam's Foreign Ministry spokesperson Nguyen Phuong Nga
The International Religious Freedom Report 2009 released by the US State of Department on Oct. 26 still includes biased assessments which are based on misleading information on the situation in Vietnam, the Foreign Ministry's spokesperson said Wednesday.
Spokesperson Nguyen Phuong Nga made the statement while answering questions from the media about Vietnam's response to the US department's assessment on religious freedom in Vietnam stated in the report.
"Vietnam follows a consistent policy of respecting its citizen's freedom of belief and of religion," she said, adding that these freedoms "are inscribed in Vietnam's Constitution and safeguarded in practice," she said.
"The fact that religions are growing robustly in Vietnam and Vietnamese people are leading an enriched religious life is strong evidence of religious freedom in the country."
The International Religious Freedom Report 2009 covers 198 countries and territories worldwide.