Senators gave President Barack Obama a huge political boost on Thursday by passing a sweeping remake of the US health care system that aims to extend coverage to 31 million uninsured Americans.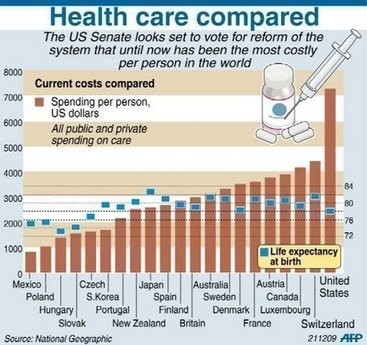 A graphic comparing the average per capita health care cost and life expectancy in the developed world. (AFP Graphic)
After 24 days of debate and months of bitter political wrangling, a feverish atmosphere prevailed in the storied Senate chamber as it voted through one of the most significant pieces of American social legislation in decades.
The bill, which should usher in a 10-year, nearly one-trillion-dollar reform program, must be reconciled with a separate House of Representatives version before, barring any last-minute changes of heart, being signed into law.
"Ever since Teddy Roosevelt first called for reform in 1912, seven presidents -- Democrats and Republicans alike -- have taken up the cause of reform," Obama said after the vote.
"Time and time again, such efforts have been blocked by special interest lobbyists who've perpetuated a status quo that works better for the insurance industry than it does for the American people.
"But with passage of reform bills in both the House and the Senate, we are now finally poised to deliver on the promise of real, meaningful health insurance reform that will bring additional security and stability to the American people."
Attention now focuses on negotiations to forge a compromise between the two bills, with Republicans hopeful that Democratic divisions over key provisions might see damaging infighting ahead of 2010 mid-term elections.
But Democratic senators were united on Thursday, all 58 voting along with two liberal-leaning independents to pass the bill on the massive package of reforms that Obama has made his top domestic priority.
The Republican Party has sought to kill the bill or at least delay the battle well into 2010, when the legislative elections could make it more difficult for centrist Democrats to support the reforms.
Not a single Republican senator voted for the package, and Senate Minority Leader Mitch McConnell's reaction summed up the bitterness of a political battle that peaked publicly with angry town hall meetings in August when leading Democrats were shouted down as they tried to sell Obama's plans.
"I guarantee you the people who voted for this bill are going to get an earful when they finally get home for the first time since Thanksgiving. They know there is widespread opposition to this monstrosity," McConnell said.
"This fight isn't over. My colleagues and I will work to stop this bill from becoming law. That's the clear will of the American people and we're going to continue to fight on their behalf."
The bill's passage is a much-needed political boost for Obama, who hours before departing for Hawaii on a 10-day Christmas break hailed the "historic vote" and vowed to "finish the job."
"In all the back and forth, it's easy to lose sight of what this incredible breakthrough really means," he wrote in an email message to supporters.
"But consider this: This Christmas, there are millions of Americans without health insurance who risk losing everything if they get sick."
Obama knows, however, that the wheels could still come off what would be the milestone achievement of his presidency so far.
A headline battle looms over the provision of a government-backed "public option" to compete with private insurers -- a controversial measure that was stripped from the Senate bill but remains in the more expansive House version.
Another potential obstacle is the House bill's tougher restrictions on federal funds subsidizing abortions: while pro-choice lawmakers denounce the limits, some centrist Democrats say they will withhold support without them.
Flying with Obama and his family on board Air Force One, White House spokesman Bill Burton told journalists that the House and Senate bills were "95 percent similar.
"We're going to be actively working to iron out the rest of the differences and to get a bill passed and signed," Burton said.
Obama rebuts critics who say the United States, recovering from a painful recession and with double-digit unemployment, cannot afford the reforms that will extend coverage to 31 million of the 36 million Americans who lack it now.
He points to estimates from the Congressional Budget Office (CBO), which found the bill would reduce the federal deficit by 132 billion dollars over the first 10 years and as much as 1.3 trillion in the next decade.
The United States is the world's richest nation but the only industrialized democracy that does not provide health care coverage to all of its citizens.
As a nation, the United States spends more than double what Britain, France and Germany do per person on health care.
But it lags behind other countries in life expectancy and infant mortality, according to the Organization for Economic Cooperation and Development (OECD).