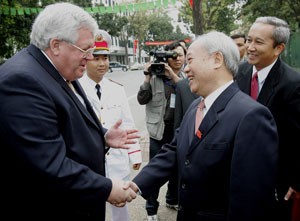 Mr. Nguyen Van An receives Mr. Dennis Hastert at the government guest house in Ha Noi on April 14, 2006 (AFP Photo)
Speaking at the Noi Bai airport before his departure, Hastert also said he and his party brought home a great impression on the Vietnamese land and people.
 During their stay in Viet Nam, US Congresspeople held talks with their host colleagues led by National Assembly Chairman Nguyen Van An and met with Prime Minister Phan Van Khai. They also met with leaders of Ho Chi Minh City, Viet Nam's largest economic hub.
On these occasions, the Vietnamese leaders all emphasised Viet Nam's major policies such as strongly gearing to a market economy and continuing with the roadmap of inter-national integration while firmly defending independence in external relations.
The Vietnamese leaders reaffirmed the Government's economic strategy to focus on poverty alleviation and determination to build a law-governing State.
All this is to promote social justice, democracy and civilisation along with the goals for prosperous people and a strong country, US lawmakers were told.
The Vietnamese leaders also emphasised the country's policy to build a long-term relationship with the US based on the Viet Nam-US joint statement. They expressed thanks to US Congresspeople for contributions to bilateral relations as well as their support for Viet Nam's programmes on HIV/AIDS and bird flu control.
Viet Nam suggested the establishment of a direct dialogue channel between the legislatures of the two countries to boost bilateral relations, especially in economics and trade. Viet Nam made clear its major goals to seek an early end to bilateral negotiations on its bid to join the Word Trade Organisation (WTO) and a Permanent Normal Trade Relations (PNTR) status from the US.
In return, the US guests promised that they would support Viet Nam to gain the PNTR status when the issue is brought before the US House.
The US House leader affirmed his stand to further promote bilateral relations between the two legislatures as well as the two countries to a new height. He mentioned the need to promote these ties when the US Preisent is to visit Viet Nam on the occasion of attending an Asia-Pacific Economic Cooperation (APEC) summit to take place in Viet Nam late this year.
The US General Consul in HCM City commented that 2006 is the year of Viet Nam with a sharp rise in the US investment and an increasing influx of US tourists and Congresspeople at all levels into Viet Nam