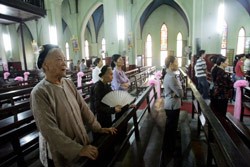 Vietnamese Catholic women attend a wedding mass inside Hanoi's cathedral 14 November 2006 (AFP Photo)
Viet Nam on Tuesday welcomed a US decision to drop it from the list of "countries of particular concerns" on religious freedom (CPC), just days ahead of a visit to the country by President George W. Bush.
The US State Department on Monday announced removing Viet Nam from the list.
"It is a right decision which accurately reflects reality in Viet Nam in accordance with the principles in the Viet Nam-US relationship and positive progress," Vietnamese foreign ministry spokesman Le Dung said in a statement.
"Viet Nam's consistent policy is to respect and guarantee the right to freedom of belief and religion and the right to freedom of non-belief or non-religion of its citizens."
The decision came ahead of a visit later this week to Viet Nam by US President G.W.mBush and US Secretary of State Condoleezza Rice to attend a summit of the Asia-Pacific Economic Cooperation forum (APEC).
President Bush is scheduled to attend a Hanoi church service on Sunday.

Regarding to failing to pass PNTR for Viet Nam by US House Representative, Viet Nam on Tuesday voiced regret.
"It is very regrettable that the US House of Representatives has not approved the bill to grant PNTR status to Viet Nam," said foreign ministry spokesman Le Dung.
He said the defeat stood as a "failing to meet the interests and aspirations of the two countries, especially the interests of US businesses."
"We hope that the US Congress will approve PNTR to Viet Nam at an early date," he added.
US lawmakers on Monday defeated the bill to grant permanent normal trade relations (PNTR) not subject to annual review to Viet Nam, which this week hosts the annual summit of the Asia-Pacific Economic Cooperation (APEC) forum.
Some sources said on Tuesday that the House of Representatives is likely to bring the bill up for a second vote later this week. However, Reuters on Wednesday quotes the house majority leader's spokesman Kevin Madden that the house would not re-vote the bill this week and the vote might be carried out before the house's closing session in the end of this year.
Viet Nam and the United States signed a landmark trade pact in May, and Viet Nam has just joined the World Trade Organisation (WTO), opening its market to greater foreign investment and trade.
But without PNTR, US companies would not automatically enjoy the new market access granted to other countries once Viet Nam becomes the WTO's 150th member.
The US-Viet Nam WTO Coalition had on Monday written to Congressional leaders urging them to vote for PNTR, warning that American companies would miss out otherwise.
"The longer the delay in the granting of PNTR, the more disadvantaged our companies will be," warned the lobby group of 168 companies and organisations that includes corporate giants such as Boeing, Ford Motor and Microsoft.
Bush is travelling to the APEC summit with a large business delegation, and he was hoping to arrive with PNTR in hand.