The US International Trade Committee (ITC) has voted for a five-year administrative review of its anti-dumping tariff levied on Vietnam 's catfish fillets, according to the Vietnam Association of Seafood Exporters and Producers (VASEP).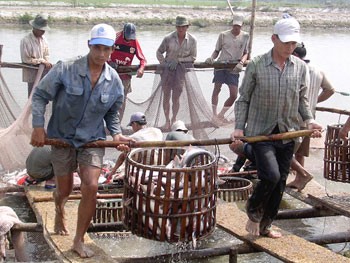 Farmers harvest catfish in the Mekong Delta
The vote on October 7, 2008 has given the ITC mandate to review all aspects of the tariff policy to ascertain whether the lifting of the anti-dumping duties would cause further damage to the US catfish industry over certain timeframes.
The US Department of Commerce (DOC) officially imposed the anti-dumping tariffs on catfish products imported from Viet Nam in 2003. The rates for different enterprises vary and are reviewed annually.
Under the DOC's commitments to the World Trade Organisation (WTO), the application of anti-dumping tariffs or any agreed delay would expire after five years of imposition unless the DOC and ITC find evidence of further or repeated dumping of products or subsidisation of products, leading to a negative impact on the domestic US market.
Regarding the five year administrative review, the ITC has asked interested parties to contribute feedback containing accurate information to help them consider any effects that may emerge if the policy is lifted.
Feedback is usually considered within 95 days from the day the committee begins the review process to help determine whether the information received is sufficient to necessitate launching a comprehensive administrative review.