US-based Global Venture and Pacific Development Group and Vietnamese authorities have just met to discuss a project to build a US$1.8 billion highway connecting southern Viet Nam's Can Tho City and An Giang Province.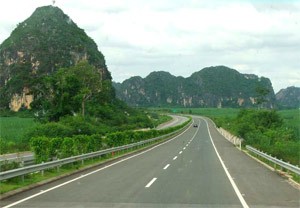 A highway will be built to link Viet Nam's Can Tho and Cambodia's  Phnom Penh.
The Can Tho – An Giang Highway, which has been approved in principle by the Prime Minister, is 110 kilometers long, 50 km of which is to run through Can Tho and the rest through An Giang.
It would also be linked to a 140 km long highway leading from An Giang to Phnom Penh in Cambodia.
The 35m-wide highway is designed for vehicles to travel comfortably at up to 120 kilometers per hour. A six-lane road will be built in the first stage and an eight-lane one in the second stage.
Can Tho and An Giang authorities are preparing information on routes, intersection points, rivers, land area and residential zones to supply the American investors this month.
Upon completion, the highway – to be built under BOT form - would facilitate trade with other Southeast Asian countries.