Vietnam and the US should further promote cooperation in the fields of economics, trade, investment, science, technology, education-training, environmental protection and climate change management.
General Secretary of the Communist Party of Vietnam (CPV) Nguyen Phu Trong made the suggestion at a July 10 reception in Hanoi for visiting US Secretary of State Hillary Clinton.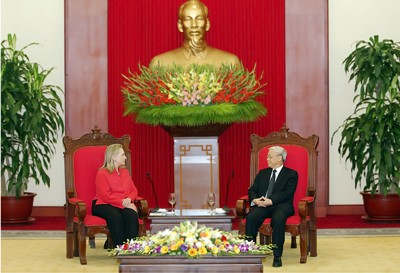 General Secretary Nguyen Phu Trong (R) talks with visiting US Secretary of State Hillary Clinton
The Party leader said he is pleased with the progresses of the two countries' multifaceted cooperation, especially in economics and trade since establishing diplomatic ties in 1995.

Reaffirming Vietnam's consistent foreign policy of peaceful independence, self-reliance, peace, cooperation and development, multilateralisation and diversification of relations, and active and proactive international integration, he said that the US is an important partner of Vietnam.

The party chief spoke highly of the active role of the US Secretary of State and her husband, former US President Bill Clinton, in fostering the friendship and cooperation between the two nations.

Ms Clinton informed her host of the results of her talks and meetings with Vietnamese leaders and expressed her pleasure to witness the country's achievements in its renewal process, national construction and development over recent years.

She highly valued Vietnam's increasing position and role in the region and in the world, affirming that the US administration wants to further strengthen effective multifaceted cooperation within regional mechanisms and countries, including Vietnam.

The strong development of economic, trade, educational and training relations between the two countries is encouraging US businesses to invest in the Vietnamese market, she noted.

Both host and guest also discussed regional and international issues of common concern, including maintaining regional peace and stability. They affirmed the importance of strengthening cooperation at regional and international forums.