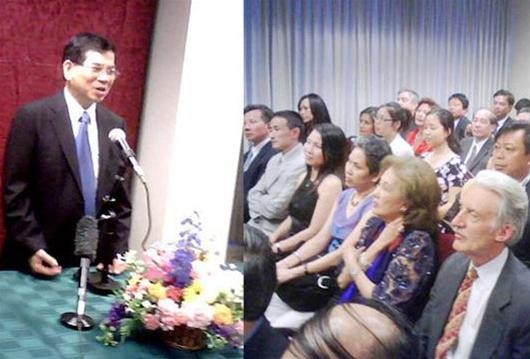 State President Nguyen Minh Triet (L) talks with the Vietnamese community in the U.S during his visit to the country on June 18 (Photo: VNN)
Vietnamese State President Nguyen Minh Triet's groundbreaking June 18 visit to the U.S. has caught the attention of news agencies from around the world as pundits believe the trip will usher in a new era of diplomatic relations between Viet Nam and the U.S.
China's Xinhua News Agency commented that the visit would help to bring U.S.-Viet Nam relations to a new stage of development, in both depth and width.
Japan's "Sankei" newspaper commented that the visit is of historic significance, marking a new development in relations between the two countries since their normalization of diplomatic ties.
Thailand's newspapers ran extensive coverage on the visit, calling it a watershed moment that highlights the increasingly developed economic and political relations between Viet Nam and the U.S.
The visit will help boost trade and economic cooperation between the two countries as a number of framework agreements on trade and investment in particular are expected to be signed, the Thai Dailies said.
Most Korean newspapers on Monday ran news about the visit, saying it was a historic event in the Viet Nam-U.S relationship, although the Korean press rarely talks about official visits of foreign heads of states.
Radio Australia and German Online all described the first visit to the U.S by a Vietnamese State President since the war ended in 1975 as a clear signal that both sides are eager to put the past behind them and expand on an increasingly burgeoning economic partnership.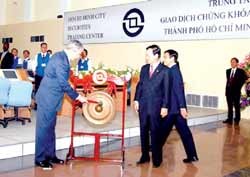 US President George W. Bush (L) visits the Ho Chi Minh City Stock Exchange during his offical visit to Viet Nam in 2006
The AFP said trade will dominate the agenda of Viet Nam-US talks, and Vietnamese State President Nguyen Minh Triet and U.S President George W. Bush will witness the signing ceremony of a bilateral trade deal at the White House on June 22.

The Australian Defense Academy's Carl Thayer, an expert in Viet Nam, commented that the Viet Nam-U.S relationship is at its best and it will enter a new stage of strategic partnership despite disagreements on human rights.

Reuters predicted that among issues of mutual concern, the two sides will discuss dealing with cleaning up toxins from three former U.S. air bases where they were stored in barrels marked with an orange stripe.

The Singaporean International Radio said Mr. Triet will visit the New York Stock Exchange.
Viet Nam-U.S cooperative relations:
* July 11, 1995: U.S. President Bill Clinton declared normalization with Viet Nam, ushering in a new area of economic and trade cooperation.
* August 1997: U.S. government approved the law allowing the U.S. Agency for International Development to assist Viet Nam in trade.
* July 13, 2000: Minister of Trade Vu Khoan and U.S. representative signed bilateral trade agreement.
* October 16, 2001: U.S. President George W. Bush signed the issuance of bilateral trade agreement.
* July 17, 2003: Minister of Trade Truong Dinh Tuyen and U.S. Ambassador to Viet Nam Raymond Burghardt signed textile and apparel agreement.
* December 11, 2004: United Airlines opened direct flights from U.S. to Viet Nam.
* May 31, 2006: U.S. and Viet Nam officially signed bilateral agreement on Viet Nam's WTO accession in Ho Chi Minh City.
* December 8, 2006: U.S. House of Representatives approved Permanent Normal Trade Relations (PNTR) status with Viet Nam.
* December 9, 2006: U.S. Senate approved PNTR.
* The bilateral trade turnover increased from US$1.5 billion in 2001 to US$9.7 billion in 2006. The U.S. has become the largest export market of Viet Nam. As of April, 2007, the U.S investment into Viet Nam reached US$2.3 billion, ranking the 8th among foreign investors. Some 1,000 U.S firms are doing business in Viet Nam.
Related Articles:
State President Visits US to Boost Comprehensive Cooperation
State President Optimistic about Viet Nam-US Ties