The Ho Chi Minh City People's Committee decided to grant a no-interest loan of US$126,000 to each of three poultry slaughtering enterprises under the City's management within three months. This loan is to help them reserve, slaughter and quarantine poultry to comply with the food safety process.
The decision was made by the Chairman of the Ho Chi Minh People's Committee, Le Thanh Hai, in a meeting with food processing enterprises and relevant agencies and branches on January 05. The meeting was to discuss measures to prepare goods for this Lunar New Year holiday.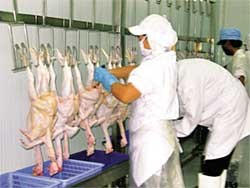 Safe poultry. (Photo: SGGP)
In the meeting, Mr.Hai also required branches to prepare sufficient quantities of goods, ensure sources of necessary processing foods and be ready to supply beef and pork to replace poultry if there is not enough poultry to supply, ensure food safety, enforce poultry quarantine, start to sell goods in the suburbs and remote areas, and prevent a sudden price rise.