Prime Minister Nguyễn Tấn Dũng has approved the State Bank of Việt Nam's (SBV) proposal to extend the VNĐ30 trillion (US$1.3 billion) housing stimulus package until disbursement of all associated funds is completed.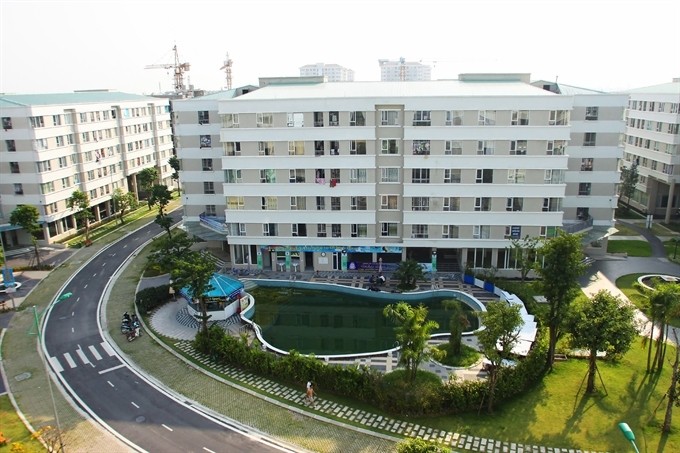 A housing project for low-income earners in the capital city's Gia Lâm District.
Dũng asked the central bank to complete disbursement of the stimulus package with a preferential interest rate, instead of closing it on June 1.
On March 22, SBV submitted a proposal to the Prime Minister regarding completing disbursement for loans committed to households and individuals to buy and rent an apartment, as well as to repair their houses.
As of March 10, nineteen commercial banks participating in the housing stimulus programme are required to stop signing new credit contracts with home buyers. The total committed loans were valued at VNĐ30.1 trillion serving 46,246 customers. Banks disbursed more than VNĐ21 trillion of the total amount committed already. Customers who signed up for loans before March 31, 2016, will receive their entire loan amount as planned.
The termination of new credit contracts by the housing stimulus package makes life difficult for both low-income earners and property developers.
Trần Quốc Khánh, a low-income earner in Hà Nội, planned to buy an apartment at the social housing project, The Vesta, in Hà Đông District. The goal was to borrow around VNĐ700 million from stimulus monies, as they had saved VNĐ300 million.
"But we had to withdraw our application to buy the apartment. The credit contract had not been signed before the March 31 deadline," Khánh said. So their dream of home ownership in the city was shattered.
Vũ Kim Giang, director of Hải Phát Real Estate Transaction Floor in Hà Nội, said around 800 out of 1,000 applications to buy apartments at the Vesta project were withdrawn since the termination announcement.
"Most prospective home buyers in the project were low-income earners. If there is no financial support, they would be hard pressed to own an apartment," Giang said.
Up to 99 per cent of Giang's customers must wait for preferential credits to buy an apartment.
"Our sales of social housing projects are facing stagnancy," he said. "Customers do not dare to sign purchasing contracts for houses, since there are no new preferential credit programmes to replace the VNĐ30 trillion package."
Giang suggested that the central bank create a specific road map for terminating the housing stimulus package, to avoid shock for both home buyers and investors.
Tạ Văn Tố, general director of the CEO Group, said that their Bamboo social housing project had been seriously affected by the termination of the housing stimulus package. Hundreds of customers had been unable to sign contracts, since they no longer had access to preferential loans from the stimulus money.
Lê Hoàng Châu, chairman of HCM City Real Estate Association, said that most home buyers had 30 per cent of the total purchase price to buy an apartment, while 70 per cent of the purchase was often financed by loans.
The sudden termination of the housing stimulus programme means that low-income earners will find it hard to own their own homes.
SBV should have another package in place before termination goes into effect, as a new programme will take time to prepare, according to Châu.