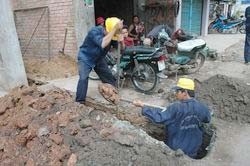 Setting up the water pipeline
A water supply system in Quang Nam Province was inaugurated today.
It was sponsored by the Hong Kong Cathay Pacific Airline through the East Meets West Organization with the total investment capital of nearly US$21,000.
More than 300 households with about 1,200 residents, 3 schools, 1 hospital and some enterprises at two villages of the province will not have to use polluted water thanks to the 10 kilometer water pipeline with the pumping capacity of 14.4 cubic meters per hour.