Hai Duong thermal-power plant, Vietnam's biggest foreign direct investment (FDI) in a thermal power project, yesterday ( Sep 9th ) broke ground in Kim Mon District of the northern province of Hai Duong.
The Hai Duong Thermal Power Plant will have two 600MW-steam turbines run by JAKS Hai Duong Power Company Ltd under the Malaysia-based JAKS Resources Berhad Group with a total capital investment of US$2.25 billion.
The 300-hectare plant consists of two 600MW-steam turbines with the design capacity of 1,200MW.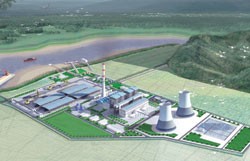 A model of the 1,200 MW-Hai Duong BOT Thermal Power Plant
The Hai Duong BOT Thermal Power Plant was approved by the Prime Minister in September 2008 and is part of Viet Nam's Power Planning Outline Initiative.
Construction work is scheduled to start next June and the first turbine is expected to become operational by the fourth quarter of 2016, while the other by the second quarter of 2017. The plant is expected to supply around 7.8 billion kWh for the northern region on its operation.
The plant will act as an independent power supplier with a 25-year contract with Vietnam Electricity Group (EVN). It will be transferred to the Ministry of Industry and Trade. Contracts have already been signed including BOT, Government Guarantee, Land Lease, Power Purchase and Coal Supply between JAKS with Government, MoIT, Hai Duong's Natural Resources and Environment Department, Electricity of Viet Nam and Vinacomin.
Covering an area of more than 300ha spread over Phuc Thanh, Quang Trung and Le Ninh
When it opens, the plant will use Vietnam's coal provided by the Viet Nam National Coal and Mineral Industries Holdings Corporation Ltd.
Speaking at the ground-breaking ceremony, Deputy Prime Minister Nguyen Thien Nhan said Hai Duong thermal-power plant will create significant contribution to the national power system as well as meet the power need of Hai Duong and neighboring provinces.
At the event, the Deputy Prime Minister emphasized that the plant marked a milestone in enhancing co-operation between Viet Nam and Malaysia.
Vice PM Nhan demanded that province authorities create favorable investment conditions, including clearing the site for the project to be carried out on time.
Managing Director of JAKS Resources Berhad Andy Ang Lam Poah said the plant would operate under the build-operate-transfer model as an independent power producer and be transferred to the Ministry of Industry and Trade after 25 years of operation.
"We strongly believe that the development of the Hai Duong Thermal Power Plant project will spur economic activity in Hai Duong and nearby provinces, creating employment and allowing small and medium-sized enterprises to grow in the area," Poah said.
Secrectary of Hai Duong Province's Party Committee Bui Thanh Quyen said in the past few years, Hai Duong had tried to improve infrastructure and administrative procedures in order to attract investment. He also added that Hai Duong had become one of the leading provinces nationwide in attracting FDI with 416 projects from 23 countries and territories.
"Thanks to those creative policies, the province has attracted the biggest FDI project in the power sector - the Hai Duong Thermal Power Plant - which will boost the province's economic growth by supplying electricity to northern provinces," he said.