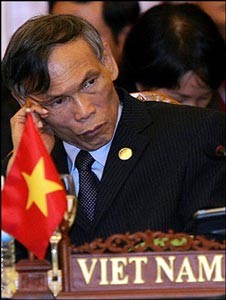 Vietnamese Trade Minister Truong Dinh Tuyen, seen here in September 2005 (AFP Photo)
   The talks between teams led by Dorothy Dwoskin, who heads WTO negotiations for the US Trade Representative, and Vietnamese Trade Minister Truong Dinh Tuyen began Tuesday and were due to have wrapped up after three days. 
  But a US official said they were still continuing late Thursday, and that no announcement would be made on their progress before Friday at the earliest.
   It appeared that Viet Nam's hopes of clearing the last major hurdle to its entry into the World Trade Organisation before it hosts a flagship summit later this year were unlikely to be met just yet.
 Viet Nam wants to complete the talks by the end of this month so it can join the WTO well before it hosts the Asia-Pacific Economic Cooperation (APEC) summit in November, which US President George W. Bush plans to attend.
After Viet Nam signed a deal with Mexico two weeks ago, the United States is the last country with which it needs to conclude bilateral discussions in order to accede to the global trading club.
  But US officials have made clear that thorny disputes still need to be resolved, ranging from subsidies extended by the Vietnamese Government to market access for a host of US goods including Harley-Davidson motorcycles.
  Related Articles:
Viet Nam, US To Enter New Round Of WTO Talks In May
VN Makes Significant Progress in WTO Talks with US
Viet Nam Finishes WTO Talks with Dominican Republic, Honduras
Viet Nam Concludes WTO Accession Talks with Canada