Vanuatu's Prime Minister Joe Natuman, who is visiting Vietnam for the first time, stated that his country is keen to strengthen cooperation with Vietnam in agriculture, forestry, fishing, mining, trade and tourism.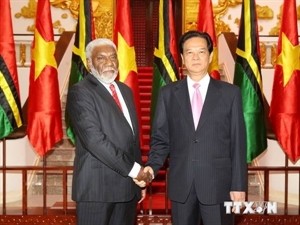 (Source: VNA)
Natuman met with his Vietnamese counterpart Nguyen Tan Dung in Hanoi on October 6. He expressed his appreciation for Vietnam's willingness to share experience in integration and development.
Both leaders agreed to facilitate visits at all levels in order to increase mutual understanding between their people.
Prime Minister Nguyen Tan Dung thanked the Vanuatu government for its support to the Vietnamese community in the island state, and its recognition of Vietnam as a market economy.
Referring to regional and global issues, both host and guest said they were satisfied with bilateral coordination at forums in the past, and vowed to continue to work together in multilateral mechanisms, such as the United Nations, the Non-Aligned Movement and the Francophone community.
On the East Sea issue, the Vanuatu PM said he backed Vietnam and ASEAN's position on the peaceful settlement of the East Sea disputes in line with international law, including the 1982 United Nations Convention on the Law of the Sea and the Declaration on the Conduct of Parties in the East Sea.
The guest invited the PM to visit Vanuatu, and the latter accepted with pleasure.
Concluding the talks, the two prime ministers witnessed the signing of a memorandum of understanding on technical cooperation and development by the two foreign ministers.