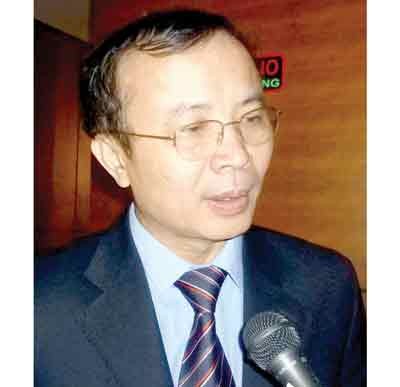 Mr. Le Ke Son
Deputy head of the Vietnam Environment Administration (VEA), Le Ke Son, January 12 said inspectors had asked the Hyundai Vinashin Shipyard Co. (HVS) to use alternatives to toxic copper slag when cleaning and repairing ships.
Speaking to Sai Gon Giai Phong, Mr. Son said inspectors had ordered HVS to immediately begin using steel balls or water as alternatives to the slag, known as nix grains, to remove rust and paint from its ships.
Inspectors asked officials in the central province of Khanh Hoa where HVS is based, to support the Vietnam-Korea joint venture in maintaining production in times of economic hardship.
Mr. Son, tasked with leading the HVS investigation, stressed that the company's earlier production and use of 800,000 tons of nix violated environmental protection laws and had caused public concern for over a year.
The shipyard was ordered last March by the VEA [a division of the Ministry of Natural Resources and Environment (MoNRE)], the environment police, and Ministry of Transport inspectors to take environmental protection measures.
Mr. Son said that HVS would still be responsible for the 800,000 tons of previously produced nix and the company must commit to building a waste treatment facility.
The VEA deputy head said that while copper slag was a more efficient material for refurbishing ships, residents' health and the environment could not be sacrificed for economic benefits.
Mr. Son reiterated that nix grain is not an illegal substance; therefore, HVS would be allowed to use it in the future if it ensured a good storage area and came up with effective nix treatment measures.
The provincial Department of Natural Resources and Environment must conduct regular environmental monitoring and impose severe penalties if violations are found, Mr. Son added.

Also on January 12, HVS sent a document to the media explaining its use of nix. It said in the last two years, HVS has tried to reduce the amount of nix used to repair ships.
However, due to a drop in clients as a result of the economic crisis, over 1,000 of HVS' 3,600 workers had to be laid off. HVS says it therefore had no choice but to import more than 20,000 tons of nix to increase the efficiency of its ship cleaning and maintain profits. The company said it would not buy more nix in the future.
A treatment factory for the slag is planned to begin construction in March, 2011 with a capacity of 300,000 tons a year.
Prime Minister Nguyen Tan Dung has asked the Ministry of Natural Resources and Environment (MoNRE) to focus on improving environmental management mechanisms and policies on sustainable protection of the environment.

MoNRE needs to immediately prioritize safe water supplies for both urban and rural areas, Mr. Dung said while addressing a year-end conference on January 12 in Hanoi to review MoNRE work in 2009 and outline plans for 2010.

He urged the ministry to pay due attention to inspecting and examining rivers nationwide to detect potential pollution problems early and deal promptly with polluters.

Regarding the planning and use of land, MoNRE should better its management and use land resources in an economically efficient and appropriate manner, PM Dung said.

He requested that MoNRE work to protect wet-rice farm land, and specialized and protective forests, to help ensure both food security and environmental protection.

MoNRE said it completed almost all targets set for 2009, notably the issuance of a resolution on stepping up economization of the natural resources and environment sector. 
Related articles:
Complaints escalate over HVS use of toxic slag
Locals accuse HVS of continued nightly toxin use
Residents worry over HVS dumping of toxic slag