Vedan Vietnam and the Ho Chi Minh City Farmers' Association on March 10 discussed compensation claims made against the Taiwanese MSG-maker by farmers in Dong Nai Province for polluting their water source.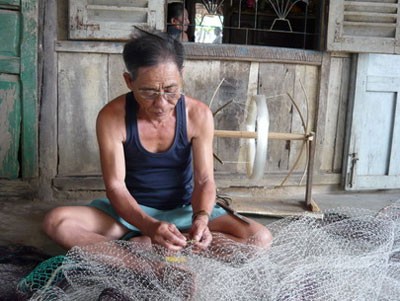 A farmer is fixing his net with hope to catch more fish yet polluted river kills his hope so he gets into bank debt (Photo; TTO)
They signed a memorandum of understanding on the recompense to be paid and to whom.
The farmers live along the Thi Vai River and their aquaculture farms and crops were reportedly damaged by untreated wastewater discharged by the plant.
More than 1,800 farmers in HCMC's Can Gio District have also lodged claims against Vedan for causing hundreds of billions of dong worth damage to their aquaculture farms, the association said.
Related articles:
Farmers' association to demand compensation from polluting Vedan

Nearly 6,000 farmers demand recompense from polluting Vedan