The Vietnam War Veterans Association has received the Independence Order, First Class, for its contributions to the country during the doi moi (renovation) period.
The association received the State's award at a ceremony held in Hanoi on December 1 to also mark its 20th anniversary (December 6).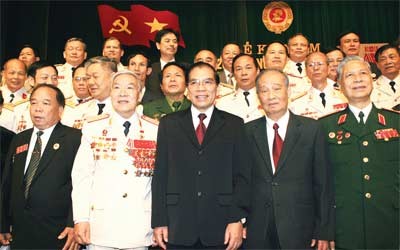 Party leader Nong Duc Manh (C) with members of the Vietnam War Veteran's Association in Hanoi on December 1 at a ceremony held to mark the VWVA's 20th anniversary and to confer the Independence Order on it. (Photo: SGGP)

Present on the occasion were Party General Secretary Nong Duc Manh, his predecessor Le Kha Phieu, former President Tran Duc Luong, former National Assembly Chairman Nguyen Van An, and other Party and State officials.
General Le Van Dung, chairman of the General Department of Politics of the Vietnam People's Army, gave away the award to the VWVA.

Lieutenant General Tran Hanh, VWVA Chairman, reviewed the association's achievements since its establishment in 1989 and promised that its 2.5 million members would continue to help build and develop the country.

War veterans have supported each other in improving their living conditions, contributed to anti-poverty efforts, helped teach young people about patriotism and revolutionary heroism, and joined the fight against corruption, squander, and social evils, he said.

To honor the association, the Party's Central Committee presented it with a banner that read "Loyalty - Solidarity - Paragon - Renovation."
Mr. Manh praised the contributions made by the association to the country's renovation process, especially in consolidating and safeguarding the Party, Government, and socialist regime.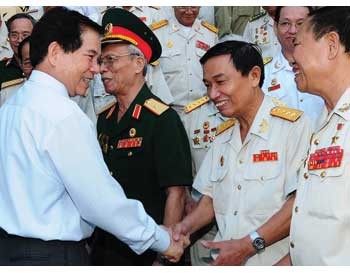 President Nguyen Minh Triet meets HCMC war veterans on December 1 (Photo: SGGP)
He called on it to launch further veterans' movements to help socio-economic development, fight poverty, and improve people's living conditions.
On the same day President Nguyen Minh Triet visited the Ho Chi Minh City War Veterans Association and met its chairman, Lieutenant General Le Thanh Tam.
The association now has more than 60,000 members, of whom 29,000 are officials in the Party, Government, and social organizations, Mr. Tam said.
May veterans have become successful businesspeople who actively take part in movements to help the poor and boost the city's development, he said.
Eight members of the association have been honored as Labor Heroes in the country's renovation era, he said.
To help war veterans in need, the association has asked city authorities for permission to establish the Poor War Veterans Fund, he added.
Mr. Triet said: "Our Party and State always appreciates the great sacrifices made by war veterans for the fatherland's independence and freedom. The Party and Government always listen to and consider war veterans' opinions while drafting the country's policies."