The war against the US invasion of Vietnam ended over 30 years ago, but remains of hundreds of martyrs who fell on battlefields throughout the country are still yet to be found and unearthed. To express their gratitude to heroes who give their lives for the war, many veterans have now built temples to worship their late comrades.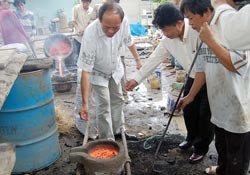 Mixing gold into the molten bronze used for casting the bell for Long Khot Temple
On such example can be found in Dong Nai, a province in southeastern Vietnam.

Among the 1,000 soldiers of the Rung Sac commando unit under 10 Army Corps, who sacrificed their lives in the Battle of Long Tau River, more than 500 remain buried in the river bed.

To help make contributions to the country's economic development, a number of veterans have recently returned to places where they fought on fierce battlefields, such as Tam Giac Sat (Iron Triangle), Binh Long, Phuoc Long, Loc Ninh and Tay Ninh.

At these former battle sites, veterans have transformed virgin forests into vast plantations.

To pay tribute to the martyrs' sacrifice, they have built solemn temples near the plantations so that they can daily visit and offer incense to the souls of the martyrs who used to be their companions-in-arms.

Sharing the same purpose, Tran The Tuyen, veteran of 174 Regiment, and his comrade, Trinh Tu Kha, are building a temple to worship martyrs in Vinh Hung District, an area bordering Cambodia in Long An Province.

Mr. Tuyen recalled, "In 1972, Vinh Hung was a violent battle called Long Khot. There were bomb raids and bloody clashes between the two sides' troops near the border, taking the lives of hundreds of our companions-in-arms."

In commemoration of the great sacrifice of national heroes, last year Tuyen and Kha, decided to make a subscription for the building of a martyr temple in Long Khot.

Tuyen said, "We appealed to the public's generosity. Thanks to the donations from veterans, Sai Gon Giai Phong newspaper, Long Thanh Golf Club, Vinagolf, Vietnam Investment Joint- Stock Co. and soldiers from Long An Border Headquarters, we collected nearly VND500 million."

Tuyen added, "We also thought about having a bell cast for the sacred place, not necessarily a very big bell, but its sound should resonant so that every person visiting the temple to offer incense can awake the martyrs' resting souls by striking the bell."

Tuyen and Kha then had a 150 kilo bell cast by a famous bronze casting company in Ba Ria- Vung Tau Province. The family of veteran Hoang Minh Son donated three taels of gold to mix into molten bronze.

Carved on the bells are four lines of verse written by Tran The Tuyen:

The solders fell and their ashes have become fertile land of the country
Their souls flew up and have integrated into the nation's air
The sound of Long Khot bell will toll forever
To tell the martyrs' supreme sacrifice to posterity

Trinh Tu Kha said at the bell casting ceremony that building is expected to be completed in a few days to come. This will allow veterans and relatives of martyrs who shed their blood in Long Khot battle attend the temple's inauguration ceremony on July 27 to mark the anniversary of War Invalids and Martyrs' Day.

The bell will be struck on the day to remind people who luckily survived the war of the glorious feat of arms of both famous and unknown soldiers, he added.

He stressed that the temple is seen as a memorial to remember the martyrs and remind younger generations of the soldiers' ultimate sacrifice for independence and freedom.