To help younger generations to remember President Ho Chi Minh and follow his moral example, an 82 year old man has written an epic about Ho Chi Minh, while a 75 year old has built a house to commemorate Ho Chi Minh's life.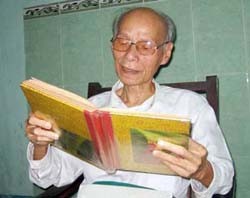 Nguyen Duc Thanh and draft epic about Ho Chi Minh (Photo: SGGP)
Nguyen Duc Thanh, from Binh Dinh Province, has spent five years writing an 11,000 line epic about Uncle Ho, despite old age and ill health.
"I've written poems about Uncle Ho since I was a young man. Five years ago, I decided to put all my effort and intelligence to write an epic about Uncle Ho that I had nurtured for tens of years. Uncle Ho is the great man of great men," Mr. Thanh said.
Mr. Thanh was born in 1927. He went north in 1955 and worked for the Ministry of Education. During this period, he was fortunate to meet Uncle Ho many times.
Mr. Thanh said the first time he met Uncle Ho was in August 1957 when he visited a school for southern students in Chuong My District, Ha Tay Province (now in Hanoi). Mr. Thanh was the head of the school boarding house at the time.
He met Ho Chi Minh a second and third time in Hai Phong City.
Mr. Thanh volunteered to go to Binh Tri Thien, as an education subdivision head, in 1963.
On the way to Hanoi for a meeting in 1969, he discovered Uncle Ho had died. He said that at that timed he cried a lot.
After the country was liberated in 1975, he returned to his hometown and continued to work in the education department of Nghia Binh Province (now Quang Ngai and Binh Dinh provinces) and retired in 1988.
He decided to write an epic about Uncle Ho in Song That Luc Bat, a traditional Vietnamese seven - seven – six - eight meter.
Mr. Thanh divides the epic into three parts, including the youth of Nguyen Tat Thanh, Nguyen Ai Quoc finding a way to save the country and Ho Chi Minh – the father of Vietnam.
The first part, 3,540 lines, was completed in 18 months. The second part was completed in two years with 4,230 lines. The third part is incomplete, with 3,000 lines already written. He has another 1,500 to 2,000 lines left.
"I will write lines of poetry about Uncle Ho until my last breath, and my greatest wish is that the epic will be published as a book someday," he said.
Inheritance for descendants will not be money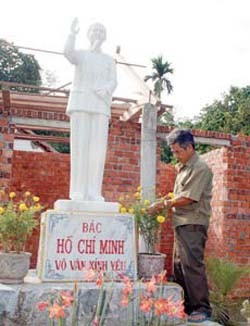 Tu Vi Dan next to the statue of Uncle Ho in his garden (Photo: SGGP)
A 75 year old Tu Vi Dan and his wife in Quang Nam Province have spent over VND100 million (US$5600) from their pension to build a commemorative house and statue to Uncle Ho.
In the searing heat of the central region, SGGP reporters met with this special couple.
Mr. Dan was born and grew up in Dien Nam Commune. He went north in 1955 and came south in 1964 to fight for the country's liberation.
In order to ensure secrecy, he changed his name from Vu Nhu Thong to Tu Vi Dan, meaning 'die for the country.'
When the peace returned to Vietnam, the couple chose Bac Tra My District, where he had used to fight, to set up house.
At that time, the land was deserted, it was surrounded by forests. Dan and his wife had managed to turn the land into fields.
His family put the picture of Uncle Ho on the ancestral altar to worship and marks Uncle Ho's death annually on September 2.
At the end of 2008, after discussing the idea with his wife, Dan took VND50 million to Non Nuoc Stone Village in Da Nang City to ask artisans to create a 1.6 meter statue of Uncle Ho.
The statue was put on a 1.7 meter stone base, that he had built himself, in his garden.
He then used another VND50 million to build a commemorative house displaying images, books and newspapers about Uncle Ho that he has collected.
"I erected the Uncle Ho statue to express my respect to him and educate my descendants and youth to learn and follow the great example of Uncle Ho. When I and my wife die, the inheritance for my descendants will be pictures and documents about Uncle Ho."