Chairman of Central Committee of Vietnam Fatherland Front (VFF) Nguyen Thien Nhan yesterday had a meeting with heads of Vietnamese representative offices abroad for 2015-2018 tenure in Hanoi.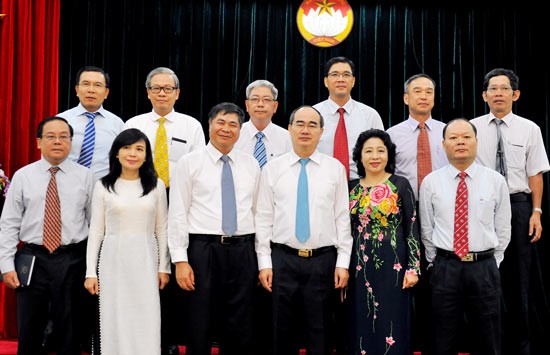 Chairman of Central Committee of Vietnam Fatherland Front Nguyen Thien Nhan and heads of representative Vietnamese agencies abroad.
Deputy Foreign Affairs Minister and Vietnamese ambassador in the Federal Republic of Germany Doan Xuan Hung was on behalf of the newly- appointed ambassadors and general consulates said that the delegation visited and said goodbye to leaders of Communist Party, States, relevant ministries, departments and agencies in provinces and cities nationwide before carrying the duties.
Currently, four million Vietnamese people are living abroad. Thus, in the 2015-2018 tenure, new  ambassadors, general consulates will must try their best protecting citizen's legal, rights  and creating best conditions for overseas Vietnamese to integrate into the international community.
VFF Chairman Nguyen Thien Nhan congratulated new ambassadors and general consulates in next three years tenure, hoping that they will prove their abilities as well as role in developing further the country's potentialities, attracting more foreign investors and protecting Vietnam's sovereignty through diplomatic activities.