The Chairman of Vietnam Fatherland Front (VFF) Central Committee praised the Khmer community for their participation in campaigns and movements launched by the VFF, particularly the campaigns to support the poor and the movement to boost national unity.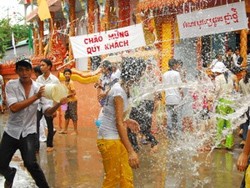 Khmer people celebrating Chol Chnam Thmay New Year by splashing water on each other!(Photo:VNA)
Mr. Dam affirmed these sentiments in his letter sent to the Khmer ethnic people on Chol Chnam Thmay New Year.
In his letter, Mr Dam hoped that the Khmer people would continue to uphold the tradition of patriotism and solidarity as well as follow the high moral path set forth by President Ho Chi Minh. He hoped that they would successfully carry out socio-economic tasks set for this year with focus on curbing inflation, stabilising macro economy and ensuring social welfare.
He also asked them to promote democracy and contribute towards a successful election for the 13th NA and People's Council for the 2011-2016 term.
The majority of the Khmer population, around 1.3 million people, is living in the south-western region, which has 453 Khmer pagodas that are home to almost 10,000 monks and nuns.