Vice Prime Minister Hoang Trung Hai had a working session of flood prevention with leaders of the central coastal province of Ninh Thuan on November 2.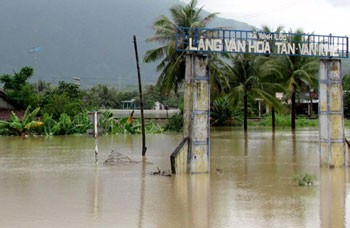 Heavy rain inundates southern central provinces. (Photo: SGGP)
People in isolated areas will be moved to safe places by helicopters, the deputy PM said.

He also asked the local authorities to prepare well to cope with the damage of several sections of Dinh River dyke.
The provincial People's Committee has proposed the Government to support 20,000 tons of rice and food, essential commodities for more than 30,000 flood victims; VND100 billion to build and repair damaged houses and infrastructures; and provide 1,500 tons of seed rice for farmers,
It is predicted that Ninh Thuan would be affected by more heavy rain, causing flash-floods and landslides next few days, said the National Hydrometeorological Forecast Center.

Flood waters have blocked several roads in Phan Rang-Thap Cham City and many communes including Thuan Bac, Ninh Son, Ninh Hai and Ninh Phuoc.

By November 2, there were still 4 missing. More than 11,800 hectares of agricultural land and 4,897 houses were submerged in flood waters. Nearly 7,200 poultry and cattle were swept away.

In Khanh Hoa Province, five people have been reported dead and another missing. Many streets in Nha Trang City have suffered severe flooding of 0.3-0.8-m depth. Most of flights to Cam Ranh Airport have been canceled while heavy downpours have blocked the North-South railway route.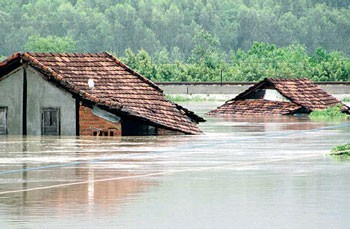 Many houses in Ninh Hoa District, Ninh Thuan Province, are destroyed and submerged into deep water. (Photo: SGGP)
In the central highland of Lam Dong Province, Da Nhim hydroelectric dam released water at a rate of 500 cubic meters per second has submerged more than 1,000 hectares of vegetables in Don Duong District.

Water levels in rivers and streams would continue to rise and floods would probably occur in Don Duong and Duc Trong districts, according to the Lam Dong Hydrometeorological Forecast Center.
On the same day, the Ho Chi Minh City People's Committee provided VND6 billion (US$300,000) and 10 tons of rice, instant noodle and clothing for Ninh Thuan and Khanh Hoa provinces.

The Sai Gon Giai Phong Newspaper-Khanh Hoa Province branch supported VND12 million to 6 families of dead and missing people.

Phu Nhuan Jewelry Joint Stock Company donated VND500 million to Quang Binh Province.

The Ministry of Health has offered medicine, 500 life-jackets and 600,000 tablets of Cloramin B for flood-hit provinces Khanh Hoa, Ninh Thuan, Phu Yen, Lam Dong and Binh Dinh.


According to the Border Police of the southernmost province of Ca Mau, two fishing boats with 19 fishermen have lost connection with mainland on November 2.
Previously, high waves and strong wind cut anchor ropes of three boats No. CM99555 TS, CM6774 TS and CM6739 TS and made the ships moved out to the territorial waters of Malaysia and Thailand. Only the boat No. CM6774 TS have returned to the shore.

Related articles:
Floods claim six lives in southern central Vietnam
Floods inundate homes, crops in central region