Vice President Nguyen Thi Doan led a Vietnamese high-level delegation to Laos on June 18 for a three-day official visit.

Doan was received by Lao top leaders, including Vice President Boungnang Volachit, Prime Minister Thoongsing Thammavong, and National Assembly Chairman Pani Zahthotou in separate meetings.
Leaders of the two countries agreed that the special Vietnam-Laos relations have been growing in all aspects, including politics, national defence-security, economics-trade-investment and education and training.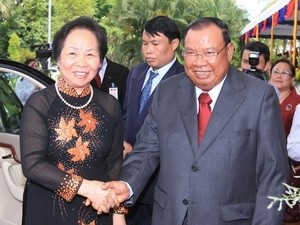 Vice President Nguyen Thi Doan (L) and Lao Vice President Boungnang Volachit in Vientiane. Photo: VNA
Specifically, two-way trade turnover continued to soar at an average 30-40 percent each year. Vietnam has become the leading investor in Laos with over 3.57 billion USD.
The two sides also wanted to expand the ties by implementing agreements reached by top leaders and various agencies, creating favourable conditions for Vietnamese enterprises operating in Laos and increasing the quality and efficiency of Vietnamese-granted projects in Laos.
They hoped to bring the two-way trade turnover to 2 billion USD by 2015, along with further cooperation on education, health care, tourism and telecommunications.
Vietnam affirmed to support Laos to soon join the Worth Trade Organisation, host the 9th Asia-Europe Meeting (ASEM 9), and the 7th Asia-Europe Parliamentary Partnership (ASEP 7) forum by the end of this year.
Laos promised to work closely with other countries in sustainable use of the water resource of Mekong River with special attention to environmental impact.
Regarding the investment environment, Doan told the Lao PM that she hoped the two countries would soon sign an agreement on investment protection and encouragement.
The two sides also agreed to work closely in organising celebrations of the Vietnam-Laos Friendship Year this year.