Vice President Truong My Hoa paid visits to many places in the southern province of Binh Phuoc on Saturday and Sunday.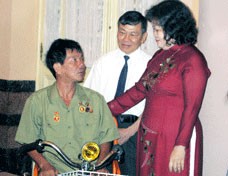 Vice President Truong My Hoa (R)
Meeting with provincial officials, Ms. Hoa praised Binh Phuoc's efforts to boost its socio-economic development over the past 10 years.
Notably, the province has achieved good results in hunger eradication and poverty reduction. In the national poverty reduction program, residents in remote areas have received 1,264 hectares of land for agricultural production and 1,646 free houses built with public funds.
The province's authorities have set aside more than VND1 billion from the State budget for poor residents and those living on social welfares in the Lunar New Year holidays in mid-February. Companies and other donors will sponsor Lunar New Year activities in Binh Phuoc.
The Vice President visited Bom Bo Commune in Bu Dang District and handed out 10 parcels of Lunar New Year presents to villagers. She also paid a visit to two households living on social welfares in Dong Xoai Town.