On August 13, Ms. Nguyen Thi Doan, Vice President of Vietnam awarded 480 scholarships to disadvantaged children of Quang Nam, Quang Ngai, Binh Dinh and Phu Yen Provinces during her visit to Quang Nam Province.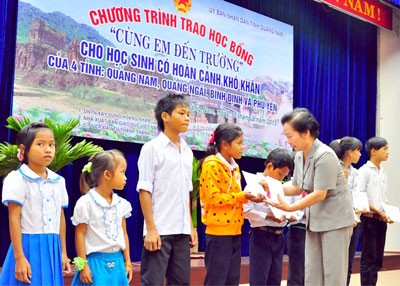 Vice President Nguyen Thi Doan awards scholarships to disadvantaged children (Photo:SGGP)
The scholarships are funded by Vietnam Fund for Child Protection, with each scholarship worth VND3-5 million.
Besides the scholarships, a program themed 'Don't Drop out of School' was launched by the Vice President. So far, the program has awarded scholarships for 5,900 children in 43 provinces, spending a total of VND17.6 billion.
On the same day, Vice President Nguyen Thi Doan and her delegation visited and offered incense at the late State President Vo Chi Cong Memorial House in Nui Thanh District.