Power cutoff has also occurred in Phu Tai and Phu Cat districts of Binh Dinh province.
Mr. Le Thanh Hai, deputy director general of the National Hydro Meteorological Forecasting Center, said that although the eye of the typhoon is in Nha Trang city, Khanh Hoa province, the worst hit areas are northern Khanh Hoa and southern Phu Yen, which have been pummeled with torrential rains.
According to the center, Damrey was centered on the waters off provinces Phu Yen, Khanh Hoa and Ninh Thuan at 4a.m today. Wind power near the eye of the storm reached level 12 moving 115-135 kilometers an hour with gales hitting level 15.
After making landfall at 6 a.m., the wind power has reduced to level 10 travelling 90-115 kilometers an hour and gales dropped to level 13.
The typhoon will move west at 15-20 kilometers an hour in the next 12 hours and weaken into a tropical depression in Cambodia by 7 p.m.
The National Hydro Meteorological Forecasting Center has warned provinces from Quang Tri to Binh Thuan of torrential rains, flood and landslide from November 8-11.
Since yesterday afternoon, under the influence of the typhoon in combination with a cold front, heavy rainfall have drenched provinces from Quang Tri to Binh Thuan. Rain will wide spread to the north central region, Central Highlands and southeastern region.
The lower reaches of Dong Nai-Saigon rivers might face flooding because of hydropower reservoirs' floodwater release and high tide.
Khanh Hoa province has reported three missing during heavy rain for the last three days, search and rescue operations are ongoing. By late afternoon on November 3, the province has evacuated 6,000 people from dangerous areas.
The neighboring province of Phu Yen has removed 4,000 households with 18,000 people, over 34,000 seafood farming cages and rafts to safety. Hinh and Ba Ha hydropower plants have increased flood release level to 3,300 cubic meters a second. The Ba River has been swollen quickly and it is forecast to cause a big flood.
Ninh Thuan and Binh Dinh provinces have informed fishermen of the typhoon's direction and guided them to seek shelters.
Deputy Prime Minister Trinh Dinh Dung was present in south central provinces to survey and instruct operations to cope with the typhoon yesterday.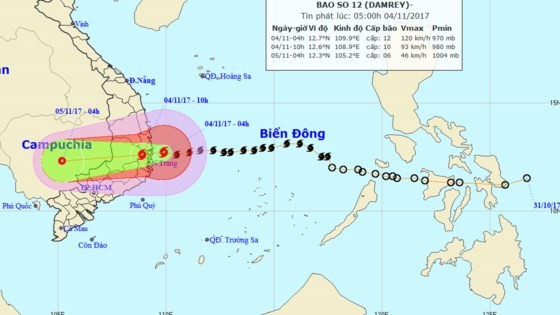 Direction of the typhoon on November 4 (Photo: National weather bureau)