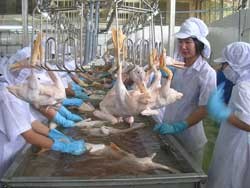 At a poultry slaughterhouse in Ho Chi Minh City (Photo: SGGP)
The Vietnamese government has permitted concentrated farms to hatch and raise chickens.
However, one-day-old chickens in all farms specializing in breeding young fowls for sales to raisers must be vaccinated against bird flu viruses before being sold in the market, said the Ministry of Agriculture and Rural Development.
Also allowed are chickens whose parents are still protected by previous vaccination.
The ministry said hatching ducks is still banned until February 2007.
In late 2005, the Vietnamese government imposed a temporary ban on raising new poultry flocks to prevent bird flu spread.