The Vietnam Association for Victims of Agent Orange/Dioxin (VAVA) has expressed its displeasure at the US Supreme Court's rejection of Vietnamese Agent Orange victims' petition.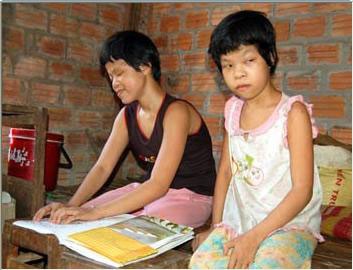 These two girls in Mo Duc District, Quang Ngai, have congenital disabilities caused by Agent Orange, like many others in their province. Typically, AO victims have both physical and mental disabilities. (Photo: quangngai.gov.vn)
In a statement on February 4, Senior Lieutenant General Nguyen Van Rinh, former deputy defense minister and VAVA president, said, "VAVA and Vietnamese AO victims are extremely discontent with the court's decision. We call on all Vietnamese at home and abroad, and those with a conscience all over the world to stand by us in demanding that the US takes moral and judicial responsibility for resolving the aftermath of AO/dioxin in Vietnam.
"Justice should be respected. We will continue to struggle for AO victims in various forms until justice is achieved."
The US' chemical war, AO in particular, has not only affected Vietnamese but also former soldiers from the US, South Korea, Australia, New Zealand and Canada. But the Vietnamese suffer the most.
The Supreme Court has committed a great mistake by regarding AO as a kind of herbicide and not a substance that is toxic to human health.
VAVA regrets that the Court has rejected the lawsuit while the US Congress and Government have taken action to mitigate the legacy of AO/dioxin in Vietnam.

Also on March 4, the Presidium of the Central Committee of the Vietnam Fatherland Front issued a statement calling on international organizations, governments, non-governmental organizations,  scientists, lawyers, social activists, the US people and the world to continue raising the voice of truth and taking practical action to support the Vietnamese AO victims and their lawsuit.

Lawyer Luu Van Dat, a member of VAVA's executive board, said it is still possible for the victims to continue the lawsuit at courts in 11 other areas in the US since the Supreme Court's rejection is valid only in area 2 where the petition was filed.