Vietnamese Prime Minister Nguyen Tan Dung and his Cambodian counterpart Hun Sen have agreed to speed up the projects Vietnam has been carrying out in Cambodia.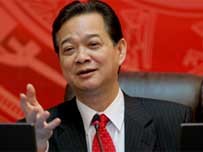 Prime Minister Nguyen Tan Dung
At their meeting in Vientiane on March 30 on the eve of the third Greater Mekong Subregion (GMS) Summit, the two government leaders agreed to intensify the two countries' cooperation to tap their potentials, particularly in the fields of oil and gas, electricity, mining, industrial crops and construction material in Cambodia.
The two PMs said they were determined to bring bilateral trade to 2 billion USD by 2010.
They also appreciated the work of border demarcation and landmark plantation, pledging to make efforts to complete the work by 2012 as scheduled.
Regarding the cooperation between GMS countries, the two PMs agreed to tighten the coordination between the two countries and with other regional countries in dealing with related issues, including the use of the Mekong 's water resource, with the aim of ensuring the harmony in interests of related countries and preventing negative effects on the general environment and the downstream countries.
PM Hun Sen accepted PM Dung's invitation to pay an official visit to Vietnam in the near future.