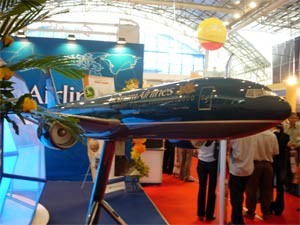 VNA's stall at the HCMC International Travel Expo 2006.  (Photo: KK)
"Under the guidance of Prime Minister and the Vietnam Civil Aviation Department, Vietnam Airlines (VNA) will strengthen security to guarantee flight safety from now to the time of APEC meetings," Deputy General Director of Viet Nam Airlines Nguyen Thanh Trung said that.
"We will check and control all stages for any weakness. Then, we will apply measures to ensure safety for flights," he added.
Regarding the two drunken passengers who joked that they had a bomb in their luggage, Mr. Trung said that VNA does not mean to ask for compensation, but it will adopt strict measures to passengers threatening aviation security and learn from those experiences to prevent the similar jokes.