Viet Nam and Brazil have pledged to strengthen long-term ties in the fields of hydropower, biological energy, steel manufacturing, food processing, agriculture and aquaculture, according to the Viet Nam-Brazil Joint Communiqué signed during the visit of Party General Secretary Nong Duc Manh to Brazil from May 27 to 30.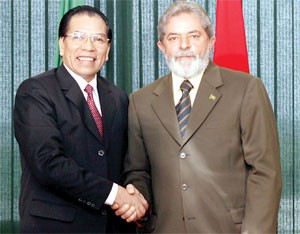 Party General Secretary Nong Duc Manh (L) shakes hands with Brazilian President Lula da Silva during his visit to Brazil from May 27 to 30

The two sides agreed on the importance of expanding the scale and diversification of their trade exchange, encouraging investment and facilitating business in fields in which the two countries are already strong, such as hydropower, biological energy, steel production, food processing, timber processing, agriculture, animal husbandry and aquaculture.

During the visit, Viet Nam and Brazil also signed a health cooperation agreement.

They expressed particular concern over cooperation in ethanol production and hydropower projects in Viet Nam, and pledged to speed up bilateral talks about ethanol production, technology and sports.

The two sides emphasized the importance of forging cooperation between Southeast Asia and Latin America as well as the South-South cooperation.

Both sides hailed the role of the Forum for the East Asia-Latin America Cooperation (FEALAC) and showed determination to successfully hold the third FEALAC ministerial meeting slated for the capital of Brasilia in August 2007.

Both sides reaffirmed the role of the United Nations in maintaining peace and security as well as boosting socio-economic progress. They agreed on the importance of UN reforms, particularly those of the Security Council.

President Lula da Silva praised Viet Nam's development and poverty reduction achievements, considering them valuable experiences not only for Brazil but also developing nations and the international community in implementing the Millennium Development Goals.

For his part, Party Secretary Manh reaffirmed Viet Nam's assistance to Brazil's candidacy for a permanent seat in the United Nations Security Council once it is expanded.

Brazilian President Lula da Silva also reaffirmed Brazil's support for Viet Nam's bid for a non-permanent seat in the UN Security Council for the 2008-09 term.

During his visit, General Secretary Manh met with Senator Tiao Viana, Acting President of the Brazilian Senate, and Deputy Arlindo Chinaglia, President of the Chamber of Deputies.

The Party leader said that the Vietnamese National Assembly and the Brazilian Lower and Upper Houses play an important role in the bilateral cooperation between Viet Nam and Brazil.