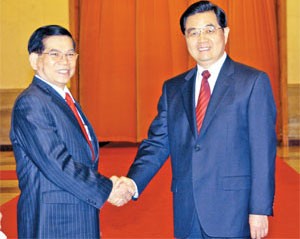 State President Nguyen Minh Triet (L) shakes hands with his Chinese counterpart Hu Jintao in Beijing on May 17 during his visit to China.

State President Nguyen Minh Triet pledged on Thursday at a summit with his Chinese counterpart Hu Jintao in Beijing that Viet Nam and China would be good neighbors, friends and partners forever.


The two countries' friendship is always considered a cornerstone of Viet Nam's foreign policy, said the State leader.
President Triet entered into talks with his Chinese counterpart Hu Jintao following a red-carpet welcoming ceremony given to him, his wife and the Vietnamese delegation during their official visit to China.
The two sides agreed to further exchange high-ranking visits and experiences on Party building and State management, and cooperate in the fields of economy, trade, science and technology, culture, education and sustainable use of water resources in the Mekong River.
They shared the view that the two countries should fully promote the role of the Joint Committee in leading bilateral cooperation as well as expand cooperation among industries and branches.
They also called for public campaigns to raise people's awareness of the traditional friendship between Viet Nam and China, especially among the young generation.
The Vietnamese side went on to highlight the impact of economic and trade ties with China.
The two parties agreed to assign relevant agencies to discuss measures to boost bilateral trade relations in a healthy way as well as to deploy the "Two corridors, one economic belt" program.
The two leaders then pledged to strengthen mutual assistance to effectively implement regional and international economic mechanisms, including the World Trade Organization.
The summit also focused on border issues, with both host and guest pleased with the progress of land border demarcation and vowed to have the work completed by 2008.
The two sides also agreed to speed up negotiations on the delineation of the seawaters surrounding the Tonkin Gulf as well as to maintain peace and stability in the East Sea.
They appreciated close coordination between relevant agencies of the two countries in multi-lateral forums, including the United States, the Association of Southeast Asian Nations (ASEAN), the ASEAN Regional Forum (ARF), the Asia-Pacific Economic Cooperation (APEC), the Asia-Europe Meeting (ASEM), the WTO and the Greater Mekong Sub-region (GMS).