Leaders of Viet Nam and Cuba have agreed to deepen their bilateral ties including those in economics and trade to match the progression of the two countries' relations.
The agreement was reached while Raul Castro, first secretary of the Communist Party of Cuba, President of the Council of State and President of the Council of Ministers of Cuba, was in Ha Noi yesterday for an official two-day visit to the country.
Party General Secretary Nguyen Phu Trong held talks with Castro after he was welcomed at the President's Palace.
Trong lauded the visit, affirming that it was a continuation of joint efforts by the two sides to elevate relations between the two parties and countries, and realise agreements made at the recent Viet Nam-Cuba Joint Communique.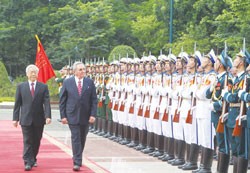 Party leader Nguyen Phu Trong (L) and first secretary of the Communist Party of Cuba, President of the Council of State, Raul Castro, view the honour guards in Ha Noi.
Trong also expressed his delight to victories gained by Cuba to protect its independence, national sovereignty and socialist construction.
He particularly praised initial achievements of the country's economic reform, officially labelled as an "update of the economic model", that was enacted at the 6th Congress of the Cuba Communist Party in April, 2011.
In return, Castro spoke highly of the historic achievements of the renewal (doi moi) process initiated by the Communist Party of Viet Nam, which he said was a support and precious experience to Cuban people in its current reform.
He also acclaimed the increasing role and prestige of Viet Nam in Southeast Asia and Asia-Pacific, as well at international forums.
The two sides updated each other on their socio-economic situations.
The two Party leaders also discussed how to deepen their ties with measures to increase the effectiveness and sustainability of economic, trade and investment co-operation.
Also yesterday, Castro was received by President Truong Tan Sang and Prime Minister Nguyen Tan Dung.
At his reception, Sang said despite the distance between the two countries, Viet Nam and Cuba had enjoyed close relations both in the past and at present.
He recalled the words of Fidel Castro who visited the central province of Quang Tri during a time that Viet Nam was fighting for independence.
The words, which read: "For Viet Nam, Cuba is willing to sacrifice our own blood", had been huge spiritual support and contributed to the victory of Viet Nam's revolution, Sang said.
The President also said he believed despite experiencing a lot of hardships, the socio-economic development model that Cuba was following would be a success.
He also said the solidarity and comprehensive co-operation between the two countries would be lifted in all spheres and at regional and international forums.
The guest expressed his wish to learn from Viet Nam its experience in management of socio-economic issues via regular exchanges of different bodies from the two sides.
Regarding matters of international concern such as environmental pollution, conflicts and democracy, Castro said Cuba wanted to co-operate with nations on the basis of equality and it would be consistent in its socialist-oriented policy.
In a separated meeting with Castro, PM Dung said based on good terms of politics and diplomacy, Viet Nam and Cuba needed to enhance co-operation in economics, trade and investment.
The two sides should prioritise co-operation in fields of untapped potential, including agriculture, energy, telecommunications and pharmaceuticals.
Castro said Cuba would like to receive support from Viet Nam in developing its agriculture