Viet Nam and Greece have agreed to bolster their cooperative ties, particularly in the areas of trade and investment.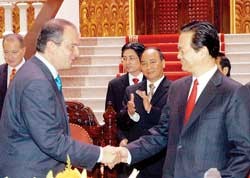 Prime Minister Nguyen Tan Dung (R) welcomes his Greek counterpart who paid a visit to Viet Nam on May 27
The agreement was made on Sunday in Ha Noi during talks held between Prime Minister Nguyen Tan Dung and visiting Greek PM Kostas Karamanlis.
The PMs said the two countries should, in the near future, negotiate to sign framework agreements on economic cooperation; conduct trade, investment, and tourism promotional activities; and organize culture and art exchange events so as to enhance the friendship and mutual understanding between their people and business circles.
PM Dung proposed that the Government of Greece support Viet Nam in its bid to increase economic and trade relations with the European Union, and urged the European Commission to reconsider the anti-dumping taxes on leather-capped shoe imports from Viet Nam and to quickly recognize Viet Nam's market economy status.
PM Karamanlis affirmed that Greece wants to develop multifaceted relations with Viet Nam and it will assist Viet Nam in boosting trade relations with the EU and in running for a non-permanent seat in the United Nations Security Council in the 2008-2009 term.
After the talks, PM Dung and PM Karamanlis witnessed the signing of a tourism cooperation agreement between the two countries.
On the same day, the Greek PM also met with Vietnamese President Nguyen Minh Triet.
President Triet warmly welcomed the first visit of the Chilean leader to Viet Nam as well as the Greek government's decision to open its embassy in Ha Noi in early 2007.
The Greek PM informed the Vietnamese President that Greece supports Viet Nam's expanding relations with the EU, particularly the overall plan of developing Viet Nam-EU relations, and Viet Nam's nomination as a permanent member of the UN's Security Council during 2008-2009 term. Greece will soon recognize Viet Nam's market economy, he added.