Viet Nam and Laos should maintain their faithful friendship and solidarity for the sake of future generations, said Party General Secretary Nong Duc Manh on Tuesday.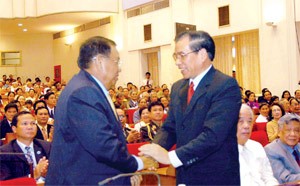 Party General Secretary Nong Duc Manh (R) shakes hands with Lao Vice President Boungnang Volachit at the meeting on July 17 in Ha Noi

The Party leader made the comment in Ha Noi at a meeting to celebrate the 45th anniversary of Viet Nam-Laos diplomatic ties (1962-2007) and the 30th anniversary of the signing of their Cooperation and Friendship Treaty (1977-2007).

The Viet Nam-Laos Cooperation and Friendship Treaty, was signed on July 18, 1977, providing significant political and legal foundations for fruitful relations between the two countries, he said.

"The traditional friendship and cooperation between Viet Nam and Laos will continue to grow strongly as the Cooperation and Friendship Treaty maintains its vigorous strength in maintaining and bolstering ties between the two countries," he stressed.

He hailed the two countries' official establishment of their diplomatic ties on September 5 1962 as an important historical event, marking a new stage of cooperation between the two neighbors.

Present at the function was Vice President Boungnang Volachith and senior Party and State officials of Laos.

Voloachith affirmed that his Party, State and People have always treasured the treaty signed with Viet Nam as it marks a milestone in the relationship between two countries.

He went on to say, "Together with the Vietnamese Party, State and People, we will try our best to preserve and foster our traditional friendship, special solidarity and comprehensive cooperation, considering these a valuable heritage for future generations."

A similar meeting was simultaneously held in Vientiane, Laos. In his speech delivered at the meeting, Chummaly Sayasone, State President and General Secretary of the Laos People's Revolutionary Party, said that the Laos-Viet Nam Friendship and Cooperation Treaty is a foundation for solidarity, mutual assistance and trust between the two Parties, States and Peoples of Laos and Viet Nam.

Truong Tan Sang, Politburo member of the Communist Party of Viet Nam's Central Committee and head of the Vietnamese high-ranking delegation also attended the meeting.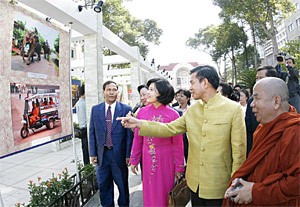 Vientiane's Mayor, Sinlavong Khoutphaythoune(yellow), leads the Lao delegation to a photographic exhibition entitled "The colors of Vientiane" in Lam Son Park, HCMC on July 17
Meanwhile, during a meeting to mark the event, Ho Chi Minh City leaders vowed to facilitate in making favorable conditions for the continuation of the special friendship between Viet Nam and Laos.

Le Thanh Hai, Secretary of the municipal Party Committee, said that in recent years, relations between his city with two Laos sister localities (Vientiane and Champassak), have seen great improvements, particularly in trade, health care and education.

Programs providing free eye surgeries in Laos, vocational training for Laotian students, Vietnamese student volunteer programs and projects to improve agricultural development and poverty reduction in Laos localities have helped to improve relations between the neighbors.

Vientiane's Mayor, Sinlavong Khoutphaythoune, emphasized that Laos has attached importance to the reinforcement of solidarity and comprehensive cooperation with Viet Nam, "The rapport must be fortified deeply and expanded to all fields from central government to grassroots level," said the Laos official.

He also expressed thanks for the support and assistance from Viet Nam, especially HCMC, affirming that his country would intensify education for the younger generations and further enhance the two countries' amity.

"Laos Culture Week in Viet Nam" and "Viet Nam Culture Week in Laos" were launched via live TV broadcasts in Ha Noi and Vientiane to coincide with the meeting in Ho Chi Minh City.

For the event, artists introduced song, dance and traditional costumes typical of the two countries.