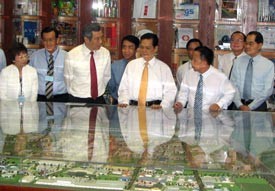 Directors of VSIP introduce about the industrial park to PM Lee Hsien Loong (3rd, L)and PM Nguyen Tan Dung (5th, L). (Photo: T.C)
The Vietnam – Singapore Industrial Park (VSIP) marked its 10th anniversary with a ceremony to initiate the new VSIP II. Both Singapore's Prime Minister Lee Hsien Loong and Viet Nam's Prime Minister Nguyen Tan Dung took the opportunity to recount the great achievements of the two nations' cooperation.
Encouraged by the success of the original VSIP, the joint venture partners (the Vietnamese State-owned Becamex IDC Corporation and the Singaporean-based SembCorp) have embarked on a second industrial park. Measuring 345 hectares, VSIP II is officially launched today with the prime ministers' best wishes at the ceremony. Twenty-eight international manufacturers from 10 countries have already committed investments worth US$200 million to VSIP II and the first operations will commence by the end of the year.
PM Lee was glad to join the anniversary and the inauguration ceremony. "VSIP and VSIP II are important symbols of the closer friendship and cooperation between the two countries," said the PM. "Singapore has become one of Viet Nam's leading partners and has become one of the largest foreign investors in the country. More Singaporean travelers visit Viet Nam these days, while the number of Vietnamese visitors to Singapore has increased by five times over five years ago. We also have over 4,000 Vietnamese students studying in Singapore."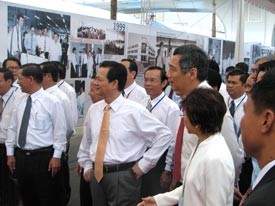 PM Nguyen Tan Dung and PM Lee Hsien Loong see the VSIP's history. (Photo: T.C)
PM Dung said, "By the end of August, Singaporean investors had invested US$7.8 billion in 425 projects in Viet Nam, leading foreign investment in our country. The import-export turnover between the two countries reached US$6.4 billion in 2005 and increased 28% over 2004. The first seven months of 2006 saw over US$4.3 billion in turnover, increasing 60% year on year. Singaporean investments are present in most of industries. But they have focused on real estates, infrastructure development of industrial parks, new urban zones, hotels and official leasing. The cooperative relationship has brought economic development for both countries."
The original VSIP joint venture project is located in Binh Duong Province. The 500-hectare industrial park has 230 international manufacturers from 22 countries with a total investment of more than US$1.4 billion. At present, the 150 factories, such as Avon, Diethelm, Kimberly-Clark, Konica, Nitto Denko, Siemens, Rohto, Unilever and Roche, operate at the park, employing more than 40,000 workers.
VSIP is the only flagship project in infrastructure development functioning as a fully integrated industrial park. It was initiated by the governments of Viet Nam and Singapore in 1994 and officially launched in January 1996 with the aim to boost Viet Nam's economy and reinforce the region's global standing as a stable investment hub.
Related Articles:
Singapore Prioritizes Infrastructure Development in Viet Nam