As ASEAN members, cooperation between Viet Nam and Thailand is still below its potential; hence, the two sides have agreed to further strengthen political, security and socio-economic ties.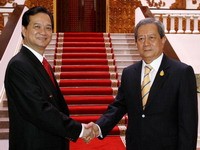 Vietnamese PM Nguyen Tan Dung (L) shakes hands with Thai PM Surayud Chulanont in Ha Noi on Oct 26 

Particularly, Viet Nam and Thailand are to boost economic cooperation, in a bid to increase bilateral trade turnover from US$3 billion as present to US$5-6 billion by 2010.

The agreement was made during talks between Prime Minister Nguyen Tan Dung and the visiting Thai PM Surayud Chulanont on Thursday in Ha Noi.

PM Dung said the first visit by his Thai counterpart, arriving in respect of the 30th anniversary of diplomatic ties (Aug. 6, 1976-2006), was a good sign of cooperative bilateral relations in the near future.

PM Chulanont affirmed the Thai Government policy of placing importance on, and giving priority to, relations with neighboring countries including Viet Nam.

The two sides agreed to continue regular meetings between high-ranking officials and promote working visits between the ministries and agencies.

Viet Nam will continue to create favorable conditions for Thai enterprises to invest and expand business in Viet Nam, said PM Dung.

Viet Nam has always attached great importance to strengthening and developing its friendship and cooperation with neighboring countries like Thailand.

State President Nguyen Minh Triet affirmed the assessment that same day at a reception in Ha Noi for the Thai Prime Minister.

The State leader said he was pleased with the results of the talks held earlier between PM Surayud and Vietnamese PM Nguyen Tan Dung, and adding that the visit would contribute to enhancing relations between Viet Nam and Thailand.

President Triet expressed his hope for the situation in Thailand's quick resolution to help the country achieve further development and prosperity.

For his part, PM Surayud emphasized the Thai Government's priority in developing ties with regional and neighboring countries, including Viet Nam, and its determination to bring Thailand forward along the path of development.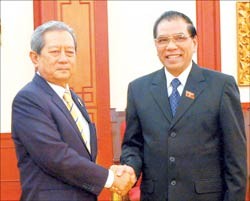 Vietnamese Party Secretary Nong Duc Manh (R) shakes hands with Thai PM Surayud Chulanont in Ha Noi on Oct 26
While receiving Thai PM Surayud Chulanont, General Secretary Manh said he hoped that the visit would contribute to boosting the friendly ties and cooperation between the two countries.

The Thai Government leader spoke highly of Viet Nam's important achievements over the past years, and expressed his belief that the renewal process would help Viet Nam gain greater successes, thereby becoming a prosperous nation.

The Vietnamese Party leader wished the Thai people success in building a nation of peace, stability and prosperity, and asked PM Surayud to convey his regards to King Bhumibol Adulyadej.

Later, the Thai PM and entrepreneurs' delegation attended a conference on investment held by Viet Nam's Ministry of Planning and Investment.