Viet Nam and Angola signed three cooperation documents at the end of the fourth session of the Viet Nam-Angola intergovernmental committee in Ha Noi yesterday.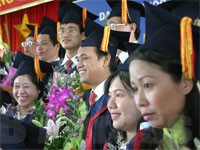 Education is an area where Viet Nam and Angola are strengthening cooperation
On behalf of the two governments, Vietnamese Deputy Prime Minister Nguyen Thien Nhan, and Angolan Minister of Science and Technology Joao Baptista Ngandajina signed the minutes of the 4th session of the intergovernmental committee, a cooperation agreement on education and training, and a cooperation agreement on tertiary education and personnel training.
The two sides agreed on the bright prospect of Viet Nam-Angola cooperation in the 2008-2010 period and hoped to continue expending the bilateral relations, ranging from diplomacy, economy, education, personnel training, health care, agriculture, fisheries, trade, industry, construction and oil and gas.
Viet Nam committed to help Angola to carry out projects on motorbike and bicycle assembly, farm industry, rice production, garment and textile production and cotton planting. Viet Nam will also send agricultural experts to help Angola implement pilot projects to establish farms in the country.
The Angolan side requested Viet Nam's cooperation in ocean exploration and assessment of marine resources.
The two countries will promote the exchange of delegations at different levels, including political consultative meetings between foreign ministries, to discuss regional and international matters of common concern.
The fifth session of the Viet Nam-Angola intergovernmental committee will be held in Luanda, Angola, in 2010.