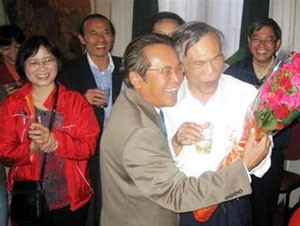 Vietnamese Ambassador Nguyen Tam Chien congratulates Trade Minister Truong Dinh Tuyen (in white) after the talks (Photo: Tuoi Tre)
The Vietnamese negotiation delegation on the country's accession to the World Trade Organization (WTO) issued a press release in Washington on May 14 on the results of the 12th Viet Nam-US negotiation round from May 9 to 14. The press release runs as follow:
The Vietnamese and US delegations carried out a new negotiation round in the US capital city of Washington in an enthusiastic spirit of straightforwardness and constructiveness from May 9 to 14.
Viet Nam and the US reached a bilateral agreement-in-principle on Viet Nam's entry into the World Trade Organization.
The two sides will finalize the agreement by performing necessary legal procedures prescribed in law of each country to facilitate the official signing of this agreement in the near future.
The reaching of this agreement and the US Congress' approval of permanent normal trade relations or  PNTR status for Viet Nam with a view to fully normalizing relations between the two countries will mark a new development step in the Viet Nam-US ties, conforming with the interest of both sides and laying an important foundation for equal cooperation of mutual benefit in various aspects between the two sides as mentioned in the Viet Nam-US Joint Statement issued in June 2005 on the occasion of Prime Minister Phan Van Khai's visit to the US.

Related article
US-Viet Nam Talks on WTO Entry Extend