Will Viet Nam  have more disadvantages than other World Trade Organization (WTO) members when taking part in the Doha Round Negotiations, especially in the areas of export aid, domestic support, and agricultural tax? That is the question raised by Ms. Nguyen Thi Hong, a specialist of  the Ministry of Agriculture and Rural Development at a conference entitled "The implications of the Doha Round Negotiations for Viet Nam" held by the Ministry of Trade of Viet Nam and the European Commission in Ha Noi on Tuesday.
Delegation at the international Doha Round Negotiation
According to a report by the National Commission of International Economic Corporation (NCIEC), participants at the Negotiations will discuss issues relating to an agricultural agreement. For market expansion, the Round will focus on extending tax quotas and reducing taxation on processed goods.
Mr. Andras Lakatos, a specialist from the Multilateral Trade Assistance Project (MUTRAP) funded by the European Commission, said that while "Viet Nam has committed to agreements with other WTO members that does not mean that they won't adopt outcomes of the Doha Negotiations".
Ms. Hong suggested Viet Nam should negotiate with the aim of not reducing taxes that have been negotiated at the WTO by joining the so-called group of 20 and 33 (G20 and G30), in which many countries such as Brazil, China, India, Indonesia share similar views with Viet Nam.
As for Viet Nam's industrial sector, according to Dr. Tran Huu Buu, Vice President of the Ministry of Industry's International Cooperation Department, Viet Nam must reduce current tariffs on about 9,400 products by 24 percent. If they continue to reduce taxes under the model developed at the Doha Negotiations, the country's Industrial sector will face more difficulties, especially with respect to the competitiveness of imported products.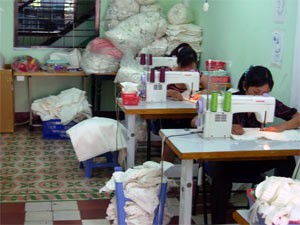 Viet Nam's textile may face fierce competition from China (Photo: Hoang Uy)
For example, the average tax on electrical appliances, which has been reduced by 30 to 50 percent, will be lowered even more, weakening Viet Nam's competitive edge in the area of product assembly and processing. Another example, Viet Nam's textile and leather shoe industries, will face fierce competition from China.
Although it may seem as though the results of the Doha Round Negotiations may not always be in Viet Nam's best interests, the country must nonetheless be prepared to join it as soon as possible.  According to Mr. Peter Naray, MUTRAP's European Team Leader, Viet Nam will benefit from involvement in the talks since they will have more opportunities to access international markets because agreements opening industrial and agricultural markets will be applied to all WTO members.