Viet Nam officially began on Saturday 23 the construction of Vung Ang 1 thermal-power plant, its largest plant so far, with the total capacity of 1,200 MW in the central province of Ha Tinh.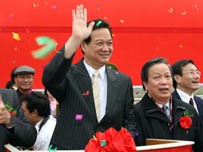 PM Nguyen Tan Dung welcomes guests at the ground breaking ceremony of Vung Anh 1 power plant
Attending the launching ceremony, Prime Minister Nguyen Tan Dung, deliverd the speech saying that the Vung Ang 1 plant was an important project of the country as it would generate 10 percent of the country's current total electricity output.
He stressed that the building of this plant is the strategic option of the Party, Government aiming to construct and shift industrial centres to the central provinces.
The US$1.25 billion plant is built on an area of 261,6 hectares in the Vung Ang Economic Zone and close to the Vung Ang deep sea port.The investor of the plant is LILAMA ( the general Construction and Machinery Installation Corporation of Vietnam ).
It has two 600MW turbine groups that will produce 6.71 billion kWh a year, equalling 70% of Son La hydro power plant. Construction of the first turbine group is scheduled to be completed in March 2011 and the second turbine group in March 2012.
PM Dung asked the Vietnam Construction and Machinery Installation Corporation, the project's investor, to ensure the progress, quality, safety and effectiveness of the project.