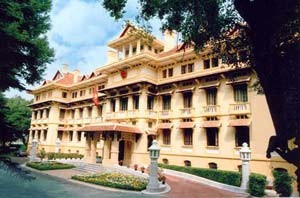 Vietnamese Ministry of Foreign Affairs headquarters
The Ministry of Foreign Affairs on July 20 called on Vietnamese citizens to quickly leave Lebanon as the situation there is getting worse.
The Ministry also warned Vietnamese citizens of not visiting the Middle East country at this point in time.
For guidance and assistance, the Ministry said, Vietnamese citizens in Lebanon can contact the Vietnamese Embassy in Egypt at: Tel: (202) 335 1189; Fax: (202) 336 8612; and Email: vnaemb@intouch.com .
The Ministry recommended that families with relatives in Lebanon to contact them and propose that they quickly leave the country.
Those families should inform the Ministry's Consular Department of the names and contact addresses of their relatives in Lebanon via its Tel: (04) 199 3421; Fax: (04) 823 6928; and Email: cls.mfa@mofa.gov.vn , the ministry added.