A special meeting of the Viet Nam – Cambodia Joint Committee was held in Phnom Penh on Wednesday and Thursday to discuss border demarcation.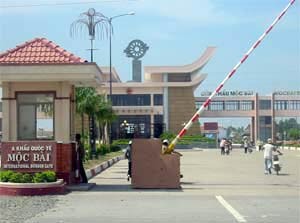 Moc Bai-Bavet border gate in Tay Ninh province (Photo: T.K.)
The two sides agreed to implant border markers at five border gates in Xa Xia-Loc, Bo Nue-Xnun, Tinh Bien-Phnong Don, Xa Mat-Trapeang Phlong, and Le Thanh-An Dong Pech.
 
The committee also agreed to research locations for implanting markers at gates along Thuong Phuoc, Vinh Xuong, Kok Roca and Caom Samno.
 
The Vietnamese delegation was led by Deputy Minister of Foreign Affairs Vu Dung, while the Cambodian side was headed by Senior Minister in charge of border issues Var Kim Hong.
 
So far, Moc Ba-Bavet gate is the only facility to have a marker created.