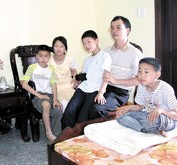 Four Chinese kids rescued by Viet Nam Police in Ho Chi Minh City early May 2006 from a cross-border human trafficking ring (Photo: SGGP)
Police of Viet Nam and China held a meeting on cooperation in fighting cross-border human trafficking between the two countries on June 21 in Ho Chi Minh City.
The two countries' police forces discussed measures to effectively exchange information and investigate human trafficking cases.

The two sides will also tighten cooperation in chasing and extraditing criminals, protecting the victims and cracking down on human trafficking rings.
The meeting was another action step followed a bilateral agreement signed by the two countries' governments on fighting human trafficking.