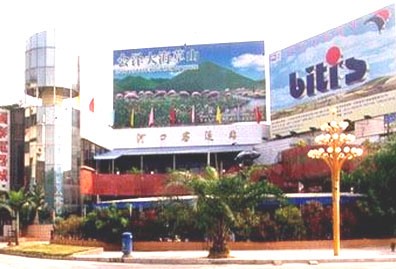 Ha Khau Border Gate between Viet Nam's Lao Cai Province and China's Yunnan Province
Public security officials from four Vietnamese northern border provinces and China's Yunnan province have agreed to implement the two ministries' recent document on controlling crime and defending security along the Viet Nam-China border areas.
The agreement was made at talks between the delegations of the Yunnan Provincial Public Security Department, led by Vice Director General Yan Shangzhi, and four provinces of Lao Cai, Ha Giang, Lai Chau and Dien Bien in Lao Cai on Sept. 23.
Provinces of the two countries agreed to strengthen cooperation by jointly carrying out the memorandum of understanding signed at the 2nd conference between the two public security ministries on May 11, 2006.
The two sides spoke highly of the results of cooperation between the Vietnamese and Chinese public security ministries in ensuring order along border areas.
They also pointed out a number of shortcomings such as irregular provincial talks and slow and inaccurate and inadequate availability of information about criminal activities. Bilateral cooperation relating to drugs and economic crime, social order problems and traffic management can still be improved, they noted.
During the week-long working visit, the Yunnan provincial delegation will visit Ha Noi, the north coast Quang Ninh province and HCM City.
Source: VNA