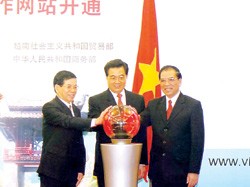 (From L) President Nguyen Minh Triet, Party chief and President Hu Jintao, and Party leader Nong Duc Manh launch the trade promotion website.
Viet Nam and China have set a new bilateral trade target of US$15 billion by 2010 instead of US$10 billion as planned earlier.
The new objective was reached during talks between Viet Nam's Party General Secretary Nong Duc Manh and President Nguyen Minh Triet and Chinese Party Leader and President Hu Jintao on Thursday in Ha Noi ahead of an APEC Economic Leaders Meeting. President Hu is attending the meeting.
The two sides rejoiced at the progress made in their bilateral trade. With the new target, China will probably import more crude oil, coal, fisheries, fruit from Viet Nam, and create more favorable conditions for Vietnamese exporters. China will also expand investment in Viet Nam.
The Vietnamese leaders and the Chinese President launched a website to promote bilateral trade.

The two sides exchanged views on major economic projects in industry, infrastructure, electricity, fertilizer and chemical production. Viet Nam hopes that China will support in building railways and highways linking cities in the two countries to further boost economic relations.
The two sides inked 10 accords on economic cooperation.
During their talks, the two countries' leaders focused their discussions on further development of relations between the two Parties and Governments, as well as regional and international issues of common concern.
Party General Secretary Manh and President Triet affirmed that the Vietnamese Party, Government and people have always respected long-term and comprehensive relations with China.
President Hu expressed support for Viet Nam's hosting the meeting and candidacy for a non-permanent member of the UN Security Council in the 2008-09 term.
Party General Secretary and President Hu invited Party chief Nong Duc Manh and President Nguyen Minh Triet to visit China. The two Vietnamese leaders accepted the invitation with pleasure.