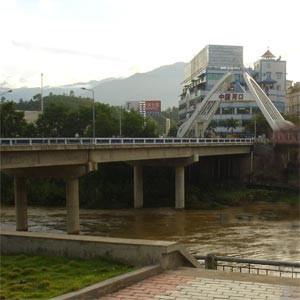 Viet Nam-China border in Lao Cai (Photo:VH)
At the meeting of land border demacration and landmark Viet Nam - China, the two sides reviewed the delineation of land boundaries and the planting of border markers in 2005.

The two sides also asserted the achievements in the work and discussed ways to solve existing problems.

They stressed that in the context of the growing multi-faceted bilateral relation, the Joint Committee and all of its members should thoroughly understand the instructions and general awareness that the two countries' top leaders and heads of the governmental delegations have reached.

They discussed a road map for the border demarcation and landmark planting from 2006 through the end of 2008 and agreed upon goals and concrete measures to complete the work of demarcation, landmark planting and signature of new documents relating to border management by 2008.

At the end of the talks, the Vietnamese and Chinese officials agreed to convene their 15th meeting in Viet Nam in February 2006.